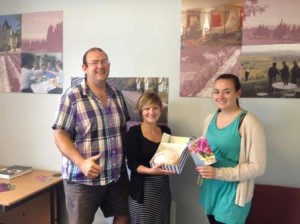 Grape Escaper Michelle had such a great time in Champagne that she treated us to a thank you card and a cake!
"Just a small note with a large thanks for organising such a great trip for us! We had the best time ever and everything seemed to flow from beginning to end.
During our girlie time together, we often acknowledged you in your attention to detail, your efficiency in handling the smallest things and most importantly your caring, kind attitude. Not once did I feel during our interactions that the timing was not good as you always made time.
The restaurant you provided was absolutely delicious and the service excellent and not to mention the fantastic hotel who looked after us well!
May you continue to thrive in your business and acknowledge yourselves for the difference you make! For sure we will recommend you to others. Oh by the way, the Champagne was awesome!"