Bordeaux is a unique city to visit, it has a rich history, beautiful buildings, it is a lively place with many shops, restaurants, bars and cafes. It is also surrounded by renowned wine appellations and picture-perfect vineyards. But behind the scene, Bordeaux is much more than that. It is a city which is changing, constantly adapting, innovating, reinventing itself for the benefit of its visitors but also its inhabitants. It is quite fascinating to witness. For example, it may surprise you that just five years ago the now famous Cité du Vin was being built in a district which had been emptied and practically abandoned. In fact, just fifteen years ago, there was no tram there and the district was not well connected to Bordeaux city centre. Today, this district – Bassins à flots – is well worth a visit and here is why.
Bassins à flots is key to understand Bordeaux's maritime history. Built in the 19th Century, Bassins à flots becomes Bordeaux's main port and a hive of activity with large ships coming from all over the world delivering products such as fruits, cereals and much more. Today you will find refurbished industrial buildings all over the district, a testimony of its past.
La Cité du Vin is a must see. Opened in 2016, la Cité du Vin is a cultural centre dedicated to wine. It pays tribute to the history of wine all over the world and its legacy. The permanent exhibition offers a sensory adventure to discover the cultures and civilisations of wine through nearly twenty different themed areas. The space is designed to allow visitors to spend as little or as much time as they wish in the building, with short tours which can be completed in just an hour and long tours in as many hours as you wish (suggested time is two to three hours). The ticket includes access to La Cité du Vin's Belvedere, where you will discover a 360° view of Bordeaux whilst tasting a glass of wine. The museum also has temporary exhibitions, a reading room, educational workshops, as well as a wine shop and a delicious restaurant with stunning panoramic views over Bordeaux.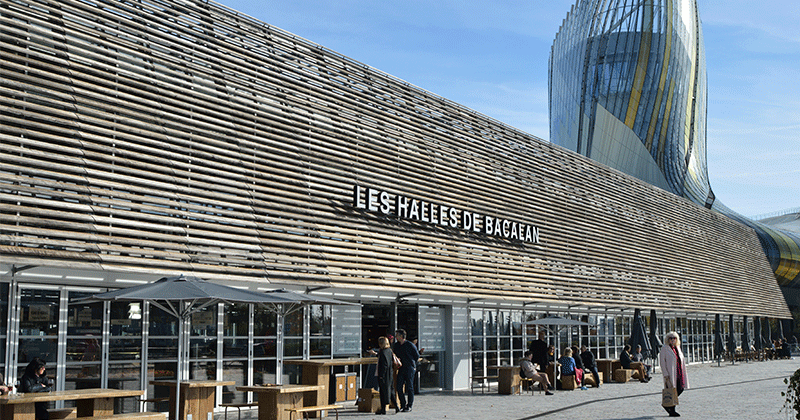 Les Halles de Bacalan are heaven for foodies. Just outside la Cité du Vin, you will find Les Halles de Bacalan, a covered market / food hall with more than twenty vendors offering everything from coffee, croissants, cheese and local delicacies to cooked dishes such as burgers, fish, meat or Italian pasta.
If you want to find out more about Bordeaux's maritime history, go to the Musée Mer Marine. With more than 10,000 marine objects, including scale models and life-size boats, navigation instruments and maps, the museum's collection covers several millennia of history of navigation.
Newly opened this year, the Bassins de Lumières are truly magical. In the old Bordeaux submarine base, Culturespaces has created immersive digital exhibitions dedicated to major artists in the history of art and contemporary art. The paintings and sculptures of selected artists are projected against the monumental architectural backdrop of the submarine base and reflected on the water of huge pools, which can be witnessed from the overhanging bridges and along the quays. It is a spectacular experience!
Don't hesitate to contact us on info@grapeescapes.net to start planning your trip to Bordeaux and discover the Bassins à flots!