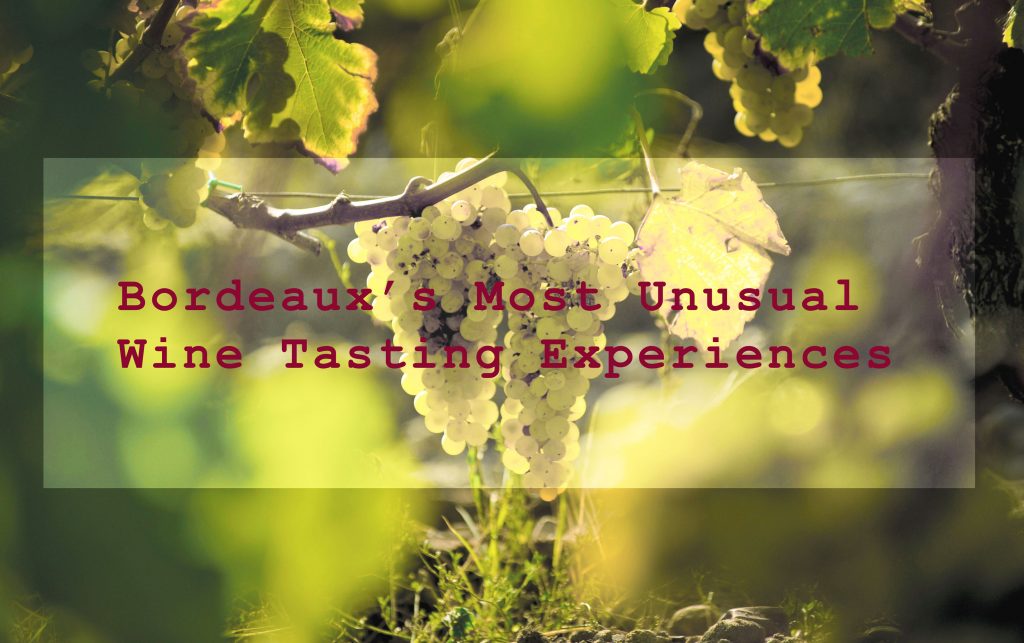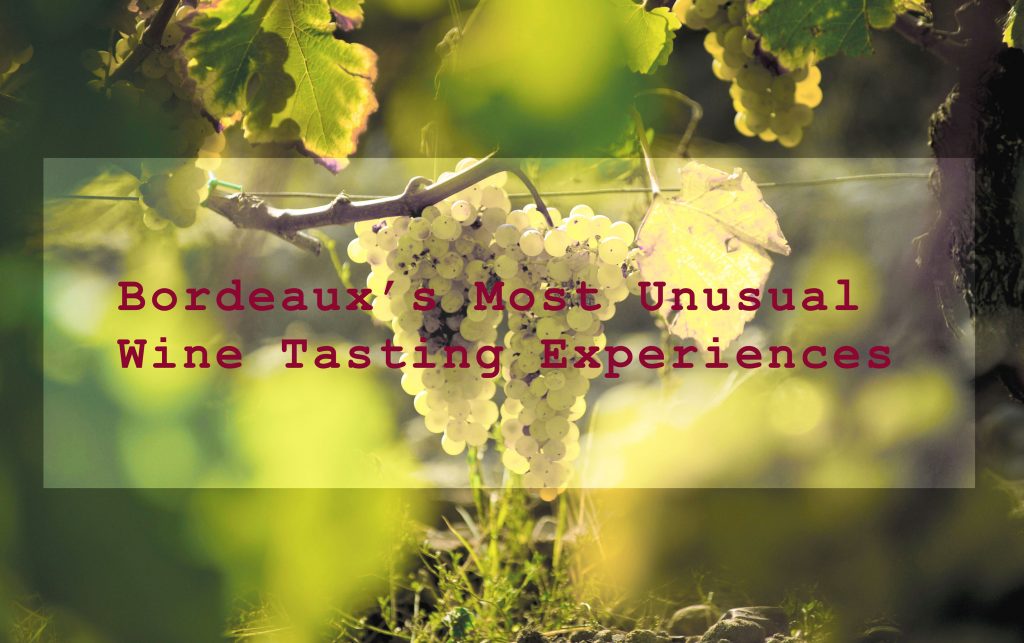 If you are looking for the most unusual wine tasting experiences in Bordeaux, you have come to the right place!
Our mission at Grape Escapes is to find the most exclusive, original and authentic events for our clients. With our extensive knowledge, experience and passion, we strive to pair our clients with experiences like a Merlot pairs with roast beef (that's 'perfectly', if you weren't sure!) To hear our clients' absolute joy upon their return (or even during their trip in some cases!) never fails to put smiles on our faces!
Here we explore some of the special and unique wine tasting tours Bordeaux has to offer:
For the Wine Aficionado 
For those who wish to explore the subtleties and intricacies of wine tasting there are several different experiences which will test your senses and expand your knowledge.
Barrel tasting is exactly as it sounds- the wine-maker will extract a sample of a wine made from grapes harvested the previous year; it may be particularly young and acidic, but at this stage critics and merchants will know whether the finished product will be exceptional. It may surprise you to know that the Premier Grand Cru Classé estates of Bordeaux sell the vast majority of their wine in this fashion, years before it is ready to drink.
Vertical tastings include a selection of wines from the same estate, from different years. With several constants such as grape variety and terroir, and limited variables such as the weather in that particular year, it is rather interesting to discover the impact these factors will have on the wine. Some wineries will allow you to choose your preferred vintages, for example a birth year or anniversary, which makes the experience extra special!
Wine blending is an especially fun activity which has always been popular with our clients. Under the expert guidance of the wine-maker, taste the different varietals, or 'single grape variety' wines, learn their individual strengths and qualities (plus of course, your own preference) before blending them to create your very own wine. Many wineries will include a bottle of your bespoke wine to take home with you- a treasured memory of your time in Bordeaux.
The Harvest tour is a dream trip for many of our clients! While flexibility or last minute planning is often necessary due to the nature of harvesting, for those who can work around this, the experience really is worth the effort. The day usually involves an introduction to the harvesting process and some grape picking (you won't be put to work, we promise!), tasting of the freshly-pressed grape juice and a convivial harvesters' lunch accompanied by some of the estates 'here's some we made earlier' wines.
For the Adrenaline Junkie
Some experiences really divide opinion when it comes to our tailor made wine tours; for some people, arriving at a winery by helicopter is the only way! For everyone else, a car will do.
If a helicopter flight isn't quite your style, we can also arrange tours by air in a hot air balloon over the Médoc or microlight (ULM) in Sauternes– a truly breathtaking way to view the landscape!
One of the most unique experiences we offer has to be a tree top tasting. Aided by a professional climber, use tightropes to make your way to a table suspended at the top of a 200 year old cedar tree. Here you will enjoy a tasting of Premier Cru Classé wine while taking in spectacular views across the Sauternes vineyards.
For the Active
As more and more of us take an interest in looking after our health and well-being, so too increases the popularity of the active wine tour. No longer is the cycling holiday reserved for MAMILs (Middle-Aged Men in Lycra), as we see a rise in enquiries about cycling across a wide range of our clients. While some clients will happily attempt 30km per day over four days, others simply wish to feel the wind in their hair on a leisurely cycle through the nearby vineyards to burn off their lunch. Guided cycling tours are also possible if you would prefer to leave the map reading to someone else! 
With social distancing expected to remain a part of our lives for some time, we have seen a trend in wineries offering a greater variety of outdoor experiences. Many wineries offer a 'winegrower's footsteps' tour, where you will spend some time in the vineyards learning about everything from pruning to harvesting.
Hiking in the vineyards is a great opportunity to see the vines up close, observe the stunning landscapes and experience a moment of calm surrounded by nature. One particular Saint Emilion winery concludes their hike with a wine tasting accompanied by homemade tapas, served al fresco. 
To clear your mind and focus your senses, why not partake in a yoga class overlooking the vines before your wine tasting? While we definitely have visions of trying to sip wine in Plow position (if you know, you know!) we would genuinely love to know the effect that heightened senses have on the taste of the wine!
For the Foodie
Wine and gastronomy really do go hand in hand, so a wine tasting with food pairing is always a popular choice with our clients. While many wineries offer a local delicacy or freshly baked bread alongside their wines, our favourite pairings have to be cheese, chocolate and caviar.
Two activities favoured with both individuals and small groups are cookery classes and our gourmet city tour. A cookery class usually involves visiting a local market to purchase fresh, seasonal produce, before preparing a delicious meal under the expert guidance of a professional chef. The class concludes with a jovial lunch or dinner assembled by your own fair hands, and of course accompanied by a glass or two of wine. The gourmet city tour is a rather lively affair! Your charismatic guide will lead you to some of Bordeaux's best foodie hotspots to sample some of the region's most delicious delicacies. 
From a wine tasting brunch, to a picnic lunch in the vineyards, a gastronomic wine pairing lunch, to a Michelin-starred dinner; we will pick the ultimate dining experiences based on your requirements.  
For the Adventurous
"Why walk through an underground cellar on foot, when one can be driven through it in a tuk-tuk?" one eccentric wine-maker asked himself. The fact that this particular Saint Emilion winery also produces a sparkling rosé really makes for a unique experience!
If exploring vast underground caves floats your boat, then exploring a 17 acre wine cellar underneath the medieval city of Saint Emilion will be fascinating! However, if floating in a boat is more your thing, we can arrange a leisurely river cruise to a fantastic winery in the Médoc.
A truly romantic experience is riding in a horse drawn carriage through the vineyards. For those who would prefer a more hands-on experience, a horse ride through the vines followed by a tasting of the estate's wines will be great fun!
If any (or all!) of our fantastic Bordeaux experiences ignite a passion in you, get in touch with us at info@grapeescapes.net to discuss your once-in-a-lifetime trip!