As Christmas is just around the corner, we would like to talk about the region of Christmas markets, warm, comfort food and superb white wines: Alsace.
Bordering Germany and Switzerland, in north-eastern France, Alsace is a unique region where the best of French and German culture come together. The region is famous for its picturesque villages and its large number of churches and castles, which have miraculously survived five Centuries of wars between France and Germany. It is also renowned for wine-making, with 170km of vineyards spanning the Route des Vins d'Alsace, and the stunning forests and lakes of the Vosges Mountains are a sight to behold.
Alsace's hearty dishes, just as its delicious white wines, display German influences and are real winter comfort foods. We have listed below some of our favourites, which will keep you warm during the cold and dark winter days.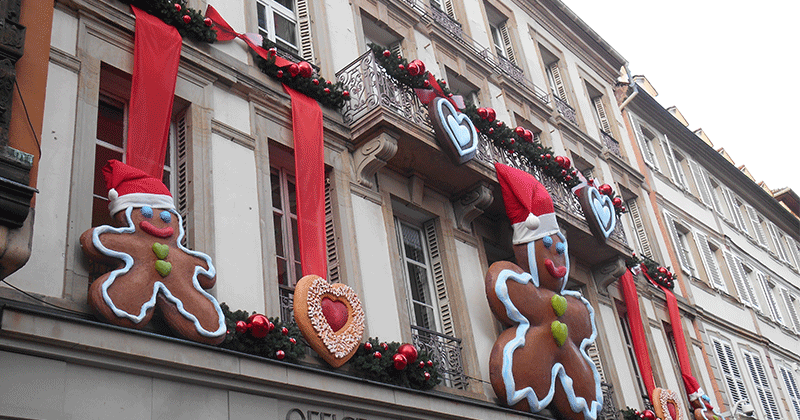 Tarte Flambée or Flammekueche 
This is the Alsatian take on pizza – a light dough with a crème fraiche base, topped with onion and bacon. Nowadays, there are many versions, with extra toppings (such as cheese and mushrooms), and sweet dessert flammekueche are also made to end a meal on a delightful note. They are absolutely delicious, and best enjoyed with a local beer.
Choucroute
Shredded cabbage pickled in wine, stewed with vegetable and various cuts of pork (sausages, ham and smoked bacon), this is a true Alsatian classic and a "must try" for anyone visiting the region.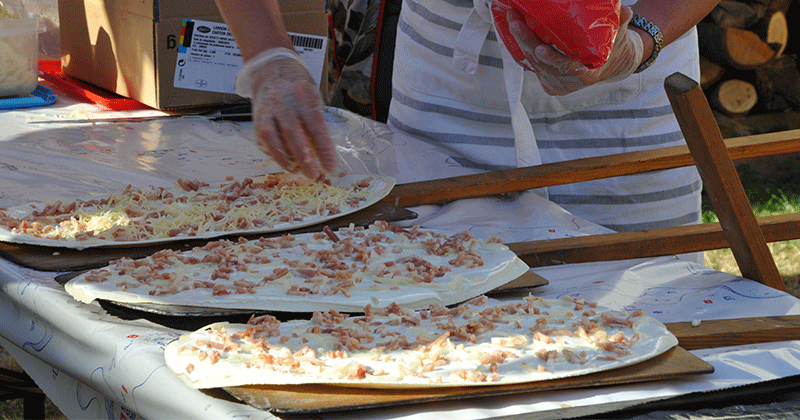 Baeckeoffe
Baeckeoffe means "baker's oven". Traditionally, people would bring the prepared dish to their local baker, who would seal the casserole with bread dough and slow cook it for hours. They would then come back a few hours later or the next day to pick it up and enjoy it at home with the family.
Pork, beef, and lamb simmered for hours in a bread-dough sealed ceramic casserole dish with potatoes, carrots, leeks, onions, herbs and white wine, this is the dream dish for comfort food lovers.
Coq au Riesling
The well-known coq au vin made with Riesling as opposed to red wine is an Alsatian classic take on a traditional French recipe. This dish is best served with potatoes and salad.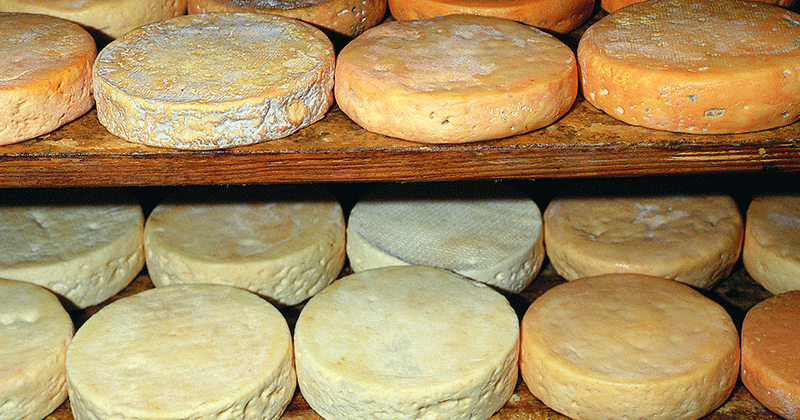 Munster
The classic Alsatian cheese is called Munster. It is a go to ingredient in many local dishes, and is delicious in a cheese fondue.
Pretzel
This baked pastry made from dough that is commonly shaped into a knot is famous across Germany and Eastern France.  Just be warned, they are bigger and more filling than they look!
Kougelhopf
This bundt shaped cake is baked with almonds and raisins and topped with icing sugar. Eaten for breakfast, as an afternoon treat or as a dessert, this is an authentic local specialty.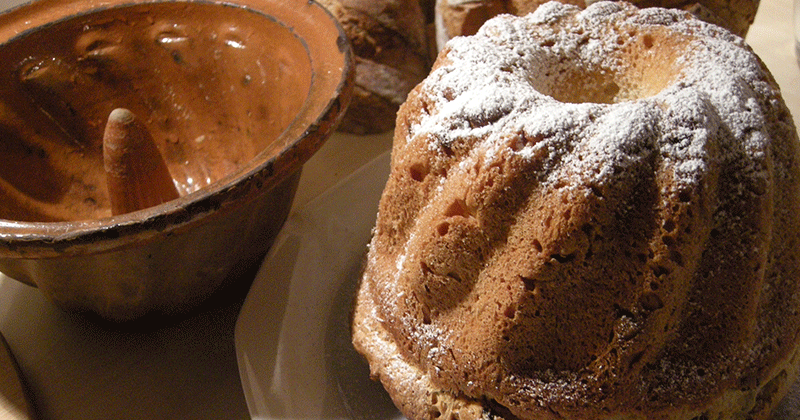 Bredle
These small cakes traditionally baked around the Christmas period come in various shapes and flavours. They are perfect to accompany a cup of tea or coffee, or to nibble whilst strolling around a local Christmas market, together with a glass of mulled wine.
Want to try some Alsatian hearty dishes? Don't hesitate to contact us on info@grapeescapes.net or on +44 (0) 1920 46 86 66 to start planning your holiday to Alsace.